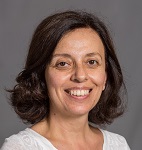 Retina specialist. Areas of research: age-related macular degeneration (AMD), angiogenesis, diabetic retinopathy and retina imaging.
Principal investigator/co-investigator of clinical trials in areas such as AMD, choroidal neovascularization and diabetic retinopathy.
Member of: European Society of Retina Specialists and Association for Research in Vision and Ophthalmology.
Thirteen original papers published in journals such as JAMA Ophthalmology, Retina, British Journal of Ophthalmology, Experimental Eye Research, Journal of Cell Biochemistry, Acta Ophthalmologica and Ophthalmologica. Reviewer of several journals.