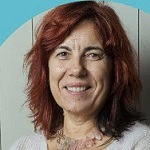 Angelina Meireles, M.D., graduated in 1981 by the University of Porto, become board certified in Ophthalmology in 1990. She began her career as Ophthalmology Consultant at Hospital Geral de Santo António. She undertook a Fellowship in Vitreoretinal Surgery at Rotterdam Eye Hospital (1995). 
Since 2003 she has been the Head of the Vitreoretinal Surgery and Ocular Trauma Unit at Centro Hospitalar Universitário do Porto – HSA and has held the position of Senior Consultant in Ophthalmology since 2009.
In the teaching sphere, she shares the coordination of the residency in Ophthalmology at Centro Hospitalar Universitário do Porto and is Assistant professor of Ophthalmology at Instituto de Ciências Biomédicas Abel Salazar. She has furthermore participated as a speaker in different National and International Congress.
Moreover, Meireles is author of book chapters and various publications in Portuguese and international peer review journals; has the competence in Management given by the Portuguese Medical Council.