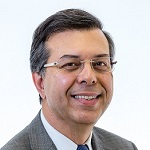 Carlos Pavesio

Moorfields Eye Hospital, NHS Foundation Trust, London, UK
University College London
Professor of Ocular Inflammation and Infection at UCL in London and Consultant Ophthalmic Surgeon at Moorfields Eye Hospital, London, UK.
He is Co-Director of the Uveitis Service at Moorfields, Director of the Fellowship Programme at Moorfields Eye Hospital and Chairman of the Infection Control Committee.
Member of many international ophthalmological societies, including IOIS and IUSG. He is a board member for the SOE and EUPO (European Union of Professors of Ophthalmology).
Organiser of the Uveitis Programme for EURETINA and SOE.
He has given more than 300 lectures both in the UK and Internationally. He was visiting Professor of Ophthalmology in New Zealand in 2009 and HMDP Visiting Expert in Ophthalmology – Uveitis, Intraocular Inflammation, Medical Retina in Singapore in 2014. He has also been a faculty member for the Cole Eye Institute Uveitis Course held in Cleveland, USA.
Professor Pavesio is the Editor-in-Chief for the Journal of Ophthalmic Inflammation and Infection and a member of the editorial board of the BJO, OII, International Ophthalmology, and JOII. He has co-edited 5 books in Ophthalmology and has authored more than 30 book chapters. He has over 250 peer-reviewed publications in the field.