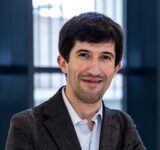 Luís Figueira has a PhD in Medicine and is a specialist in Ophthalmology and in Clinical Pharmacology.
His main areas of interest are ocular inflammation and diseases of the cornea and ocular surface. He is the coordinator of the Ocular Immunopathology Unit at Hospital São João, in Porto, Portugal.
As a researcher at MedInUP (Center For Drug Discovery and Innovative Medicines) at the University of Porto, he works mainly in clinical trials, pharmacoeconomics and pharmacovigilance.
He is assistant professor of Pharmacology and Therapeutics at the Faculty of Medicine of the University of Porto, Portugal.
In 2019–2020 he coordinated the Portuguese Ocular Inflammation Group.