Poster Display Guidelines
Before the Congress
To display a poster, all presenters must have completed their registration before February 28, 2023. Please click here for online registration.
Please note if the registration fee has not been received by the abovementioned date, your submission will be withdrawn, you will not be able to display your poster on-site and it will not be included in the Congress app.
Poster Presentation Requirements
Your poster should be 90cm wide x 120cm high (Portrait style).
Please do not prepare your poster on several pieces of A4 paper.
Important Information – Posters
Sample of Poster: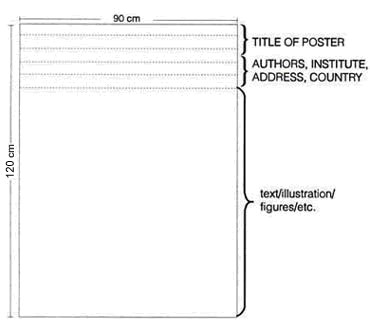 Poster Display Equipment
A large display board giving a display area of approximately 90cm wide x 120cm high will be provided for your poster display. Please refer to the above diagram
Drawing pins will be provided to all poster presenters at the congress. On-site staff will be available to assist you.
Your poster number will be provided on the display board. Please ensure that your poster title and authors' as stated on the submitted abstract are printed on your poster.
Content
Do not include references unless it is imperative
Please include financial disclosure
Layout
Do not use several A4 sheets. If necessary please note that individual pieces of paper should be pre-mounted onto one large piece of paper or card.
The reading order of the a poster should be down columns, rather than across rows
Use just one or two colors on a plain colored background
Put the conclusions in a prominent panel (preferably at the bottom of the poster)
Watermarks in the middle of a poster tend to distract
Do not justify the column text if there are few words to a line
Be selective in your use of bullet points, perhaps only in the conclusion
Font
Poster body text must be readable from 2 meters (with possible exception of references) and the title from 4-5 meters
Avoid capital letters except at the beginning of sentences and proper nouns
Use a black sans serif font e.g. Arial or Gill Sans throughout
Do not underline anything
Use a bolder, larger typeface for the main titles and headings. It can be effective to use a different typeface for headings and subheadings
To emphasize body text, use a bold or italic font
Finally…
Check the draft of your poster very carefully to ensure that there are no typographical or style errors
Use matt (non reflective) encapsulation to protect the poster
Display, Installation, Presentation, and Removal Times
Poster presenters should plan to be beside their posters during the designated coffee breaks, as specified in the program.
Poster Board numbers will be posted in the abstract listing on the congress website before the start of the congress and will also be listed in the Congress app.
Posters must be removed at the end of the Congress. The Congress Organizing Committee will not be responsible for posters that are not removed on time.