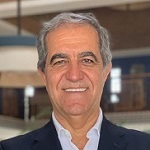 Rufino Silva, MD, PhD, is an Ophthalmologist at the CHUC, with over 25 years of dedication and expertise in the retina area, and Associate Professor of Ophthalmology at the Faculty of Medicine, University of Coimbra, Portugal. He is currently the President of the Portuguese Society of Ophthalmology.
He is a Researcher of national and international research projects. His main areas of research include: risk factors of AMD progression and include  epidemiology, imaging, genetics,  metabolomics,  lifestyle and food habits.
He has authored and co-authored over 230 publications of scientific articles, books and chapters.
He has collaborated on numerous papers and/or communications and courses at national and international scientific meetings and congresses,  
He is a member of prestigious Scientific Societies in the field of Ophthalmology and a member of the Editorial Board and reviewer of several International Scientific Journals.