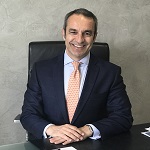 Vitreoretinal Specialist, My Retina Athens Eye Centre, Athens, Greece
Graduated from Medical School of Aristotle University of Thessaloniki – Greece
After fulfilling his military service, he trained in Ophthalmology in AHEPA University Hospital, Thessaloniki – Greece
One year funded Fellowship in Uveitis and Inflammatory diseases with Mr. William Ayliffe in Croydon University Hospital, London, UK 1997-1998
One year Fellowship in Vitreoretinal Surgery with Mr. Chris Canning and Mr. Andy Luff in Southampton University Hospital, Southampton, UK, 1998 – 1999
One year funded Fellowship in Vitreoretinal Surgery with Mr. Bob Cooling and Mr. Zdenek Gregor in Moorfields Eye Hospital, London UK, 1999 – 2000
A fellowship supported by IACOCCA Foundation and Harvard Medical School gave him the opportunity to work with Prof. Donald D' Amico in Mass Eye and Ear Infirmary Boston USA, on research projects such as Optic Disc Surgery for CRVO, and ablation of the ILM with Erbium YAG laser using biological dyes, 2000 – 2001.
Since July 2001 he runs a retinal practice in Athens focused mainly on surgical retinal problems. Medical retinal diseases such as diabetic retinopathies, AMD and uveitis are in his main interests as well.
Clinical research focused on the improvement of the surgical technique of vitrectomy is also in his main interests. A new technique which is a modification of the conventional 20 GAUGE Pars Plane Vitrectomy has been worked out and has been performed since 2003. Initially, as a tranconjuctival technique that was using sutures at the end of the operation. Then the technique was improved. This new technique reduces the operating time and the post operative inflammation of the eye. The postoperative recovery time is shorter too.
The technique has been presented in several meetings around the world. Many surgeons have adopted the technique.
Since 2010 Dr. Gotzaridis MD has adopted the small incision instrumentation (25G and recently the 27G (gauge) in his surgery.
Dr. Stratos V. Gotzaridis is the founder and the head of "My Retina" Athens Eye Center. 
He was president of the Greek Vitreoretinal Society (GVRS) for the years 2014, 2015.
Currently he is international member of the Board of American Society of Retina Specialists (ASRS)
Also he is member of:
•Greek Vitreoretinal Society (GVRS)
•Greek Society of Intraocular Lenses
•Greek Ophthalmology Society
•American Academy of Ophthalmology
•European Society of Rettinal Specialists (EURETINA)
•American Society of Retina Specialists (ASRS)
•Britain and Eire Vitreoretinal Surgeons (BEAVRS)
•General Medical Council (GMC)