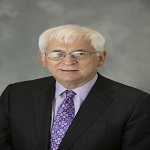 William F Mieler, MD is the Cless Family Professor of Ophthalmology, and Vice-Chairman for Faculty Affairs, in the Department of Ophthalmology & Visual Sciences at the University of Illinois at Chicago.  He also serves as the Director of Vitreoretinal Fellowship Training, and Director of Ocular Oncology.   
Dr. Mieler received his Doctorate of Medicine degree at the University of Wisconsin-Madison, Medical School, followed by completion of an ophthalmology residency at the Bascom Palmer Eye Institute, University of Miami, Miami, FL.  This was followed by a vitreoretinal fellowship at the Eye Institute, Medical College of Wisconsin, Milwaukee, WI.  He then returned to the Bascom Palmer Eye Institute where he served as Chief Resident and Clinical Instructor.  Dr. Mieler then completed a second fellowship in Ocular Oncology, at Wills Eye Hospital, in Philadelphia, PA.  After serving on the full-time faculty at the Medical College of Wisconsin, and being Professor and Chairman, Department of Ophthalmology, at the University of Chicago, he then entered into his current position at the University of Illinois at Chicago (2008-present). 
Dr. Mieler has authored or co-authored 385 peer-reviewed scientific papers, 101 book chapters, and 10 textbooks (4 as Section Editor, and 6 as Editor), including most recently The Retina Atlas, 2nd edition (2017), and Macular Surgery (2020).  He has also presented 29 named lectures.  He has served the American Board of Ophthalmology (ABO) as Chairman of the Board, and is past- President of the Macula Society, where he was awarded the Gass Medal.  Dr. Mieler has served on the ARVO Board of Trustees and as President of ARVO, where he received the Distinguished Service Award.  In the American Ophthalmological Society (AOS), he serves as a member of the Council (2018-23), and will be President of the Council in 2023.  He has served on the Editorial Board of six ophthalmic journals.  From the American Academy of Ophthalmology (AAO), he has received numerous awards, served on a number of committees, and most recently served on the Board of Trustees.